When adversity knocks, respond like Siddhartha Vadlamudi to get on a path to roaring success.
Different people face adversity or hardship differently. Some easily crack under pressure while some endure the harsh circumstances and achieve roaring success. Almost all of the world's greatest achievements have been a result of the persistent efforts of a sedulous person, one who refused to give up when there seemed to be no hope. Take Edison for an example. He tried 10 thousand times before he successfully invented the incandescent light bulb. Had he given up after trying a few times, can you imagine what repercussions it would have had on the modern world? It surely is unthinkable.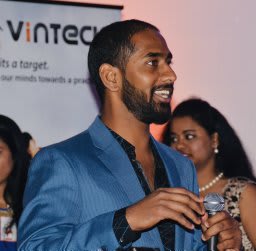 Siddhartha Vadlamudi was born in a distant exurban region of Vijayawada, located in the Indian state of Andhra Pradesh, in a family of limited means. Even before he was one year old, in a tragic event, he lost his father. This forced his mother to shoulder the burden of responsibility of Siddhartha and his brother. His mother is a strong willed and determined individual who refused to give up and let ill-fate control the lives of her children. She was resolute to give a bright future to her children and tried her best to secure a successful future for her children.
As time progressed, they barely managed to keep their heads above water. By the time Siddhartha turned three, he was diagnosed with a severe kidney disease. He was frequently hospitalised due to which his health and finances took a toll. He developed a weakened immune system making him susceptible to life threatening infections. It nearly took him 10 years to fully recover from this condition. All of these challenges didn't keep him from performing brilliantly at studies and extracurricular activities. He has been amongst the brightest students in his batch right from the early school days to his post graduate degree.
Along with self-confidence, trustworthiness, respect and responsibility, Siddhartha's mother instilled in his mind, a vision to overcome all odds and become a wildly successful person. He didn't have to look elsewhere for inspiration, his mother was truly the epitome of persistence, perseverance and diligence. This helped him in identifying and setting his goals at a very early age. He completed his B tech. in Electronics and Computer Engineering from Prasad V. Potluri Siddhartha Institute of Technology, Vijayawada, Andhra Pradesh with a vision to utilize his true potential in the IT industry.
Soon he realized that the optimum utilization of his skills and knowledge would be easier if he moved to the US and therefore, he filed his immigration application during the beginning of his undergraduate studies. By the time he completed the programme, he had in his hands, the admittance papers and a challenge to pay for immigration. When he shared his dilemma with his mother and brother, they offered their life's earnings alongside mortgaging their ancestral house to fund Siddhartha's bright future in America and that's how Siddhartha stepped on American soil.
The US, being the land of opportunities, blessed Siddhartha with ample opportunities to get ahead and prosper. To further upskill himself, he obtained an M.S degree in Computer Engineering from the University of North Texas. This is when he found his calling in the field of artificial intelligence. To explore the field further, he completed several courses in Pattern Recognition, Database Systems, Computer Algorithms, etc.
Siddhartha currently works for Xandr inc. as a Software engineer II, a subsidiary for AT&T's WarnerMedia and has worked with 500 fortune corporations like American Express, AT&T, and Comcast. He has authored several scholarly articles independently as well as in collaboration with some of the finest minds in the US IT community. His areas of expertise include Artificial Intelligence, Machine Learning and Internet of Things.
For large corporations, small enterprises and even individual investors, the most challenging issue is to forecast financial crisis. In his article 'The Impacts of Machine Learning in Financial Crisis Prediction', he has discussed the vital role played by machine learning in predicting bankruptcy and creditworthiness. The main effects of machine learning in a financial institution, the function of machine learning in forecasting a financial crisis and the methodologies employed by the ML are discussed in the journal.
Cloud migration, a term we frequently hear, means transitioning from client-based to cloud-based frameworks. This study topic has been addressed in his article 'Opportunities and Challenges of Data Migration in Cloud' from a range of perspectives, including models for companies to decide on the long-term viability of cloud migration. Various pull and push factors are covered along with challenges in cloud migration such as shifting costs and personal judgment. The office hypothesis was used to understand and analyse the incompatibilities that exist between cloud providers and clients. The paper selects and evaluates alternative solutions to these problems, as well as specialised and non-specialized strategies to increase the long-term viability of cloud migration.
Life will undoubtedly put you in countless difficult or unpleasant situations. You will undoubtedly experience hard times when nothing goes your way but when your determination to succeed is unwavering, no 'odds' can stand in your way. With his unwavering determination and strong desire to succeed, Siddhartha Vadlamudi defied all odds to become a distinguished member of the US IT community.
Media Contact
Contact Person: Siddhartha Vadlamudi
Email: Send Email
Country: India
Website: http://linkedin.com/in/siddhartha-v-58b006210