A Comprehensive Jasper AI Review That Explains How Jasper AI Emerges As The Ultimate Copywriting Tool
Jasper AI uses an artificial intelligence-powered copywriting methodology to provide users with the best copywriting services.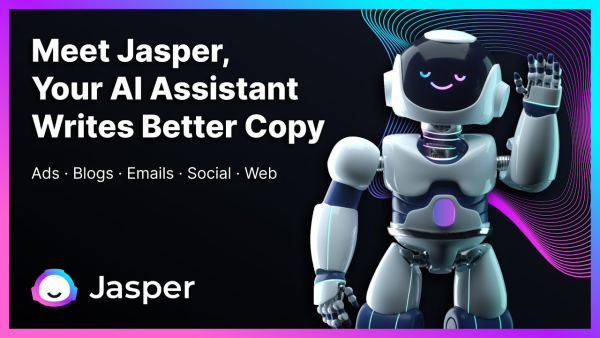 Jasper AI was developed by the company that made the much-loved product UseProof. Their earlier knowledge of copywriting enabled them to develop a unique copywriting product for customers. Copywriting combined with AI led to the formation of Jasper AI.
Dave Rogenmoser (CEO & Co-founder) heads this company and his team includes Megan Johnson, Chris Hull, Austin Distel, John Philip Morgan, and James Morgan.
Jasper AI has a set of features that distinguishes it from its competitors in the market.
An interface that is simple and easy to use
Jasper AI has a simple and user-friendly user interface. The creators designed an interface that can be used regardless of skill level.
The AI tool's templates are easy to use and allow anyone to create high-quality, engaging content. This AI tool aids in the content creation process, ensuring that the content is simple and user-friendly.
Excellent grammatical skills
Grammatical errors detract from the pleasure of reading. It also leads to misunderstandings and visitors abandoning the website or blog before reading the content.
A user has complete control over the use of each word in the content with Jasper AI.
Jasper AI's writing style is consistent with Google's guidelines. As a result, your blog or content will rank higher in search engines.
Freedom to create content in over 25 languages
The Jasper AI tool can create content in 25 different languages, namely Bulgarian, Dutch, French, Italian, Polish, Slovak, Chinese, English, German, Japanese, Portuguese, Czech, Estonian, Greek, Latvian, Romanian, Spanish, Slovenian, Danish, Finnish, Hungarian, Russian, Swedish, and Lithuanian.
Jasper AI and Surfer SEO integration
The Surfer SEO tool allows you to convert the content of a blog post without the need for human intervention. The AI tools identify the most frequently used phrases by the user and display them at the top of the Google word cloud. This aids in the creation of high-quality content that ranks higher on Google.
It can also keep track of social media sites such as Twitter, Facebook, and others. Customer feedback is analyzed from Amazon reviews and other similar sites.
Spending less time developing fresh and engaging content
The AI tool will assist in creating high-quality content that is tailored to the needs of the users. It assists in the removal of grammatical errors and allows you to upload content on time.
By observing current trends, Jasper AI can create original content using the AI system. This aids in the removal of writer's block. There will be no shortage of ideas with this AI tool, and you will be able to create fantastic content.
Features of Jasper AI
It's not just about the features that software provides, but how those features are integrated together to help users achieve their goals is what ultimately determines the impact of the product. This is exactly where Jasper AI truly shines. Japer AI has proven that in real-world scenarios it helps to:
– Create unique content that ranks well in search engines.
– Create keyword-rich and plagiarism-free instructional blog content.
– Improve your ad copy to increase conversions.
– Increase sales and enhance return on investment
– Assist copywriters to quickly write and test more copy variations.
– Assist in completing the first draft ten times faster.
– Users can just tell Jasper what they want, and the AI can write paragraphs for them in seconds.
– Increase your customer base by breaking down language barriers.
– Using Jasper AI, anyone can now write creatively and coherently in 25+ languages, regardless of their original tongue.
– Jasper AI helps scale up content marketing fast.
– Users can repurpose existing content and generate new content without hiring new writers.
Starting with Jasper AI is a breeze
As well as all the benefits that Jasper AI provides, it also comes with some advanced tools and features to further enhance users' experience and provide additional value.
– Everything starts with easy to manage templates. There are templates for everything including Facebook ad headlines, AIDA framework that stands for Attention-Interest-Desire-Action, a proven copywriting concept, a Sentence expander, and even a content improver.
– A user can simply input some basic text and let Jasper AI create an optimized paragraph out of it.
– A user can also take existing content and repurpose it in a creative, interesting, and engaging manner.
Understanding the Pricing of Jasper AI
Jasper AI comes in two flavors.
On the one hand, the Starter Package is for creating short copy. It is perfect for hobbyists and those who are just starting.
On the other hand, Boss Mode is for long content which is perfect for bloggers and businesses.
The Starter Package costs $49/month for 35,000 words/month. Users can also increase the word count as per their needs. The plan gives access to all base templates and is perfect for short-form content such as product descriptions, single paragraphs, and much more. There are 50+ AI Templates to choose from, support in 20+ languages, up to 5 users are allowed and Chat Support is also available.
The Boss Mode starts at $99/month for 100,000 words/month. Of course, users can increase this limit as per their needs. This plan gives access to everything from the Starter package plus Google Docs Style Editor, Compose and Command Features, Maximum Content Lookback, Increased limits on templates, the option to grow with the increase in team strength, priority chat support, and many more features and tools.
To make an informed decision, it is important for the user to understand both pros and cons of Jasper AI.
Pros of Jasper AI:
– User-friendly
– Accurate and efficient
– Content tone
– Pocket-friendly
– Long-form content
– Free SEO course
– Multifunctional personality
– Free copywriting course
– Amazing templates
Cons of Jasper AI:
– Wrong facts and figures
– A bit pricey for beginners
– Struggles in some niche areas with less content available
The biggest proof of Jasper AI's world-class experience is the fact that on the G2, Capterra, and Trust Pilot, real customers of Jasper AI have given a 5/5 star rating in over 3000 reviews.
To explore Jasper AI and get started visit: https://news.joshlamech.com
Media Contact
Company Name: JoshLamech LLC
Contact Person: Josh Lamech
Email: Send Email
City: Toronto
State: Ontario
Country: Canada
Website: www.joshlamech.com