Glaucoma Disease Overview, Symptoms and Treatment by DelveInsight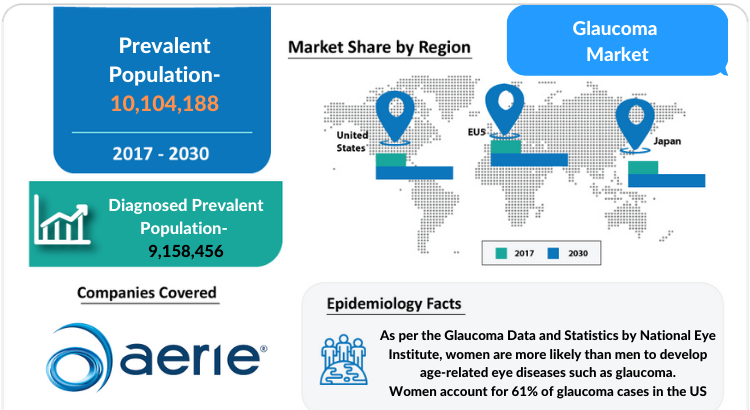 "Glaucoma Market" report has been added to DelveInsight
Glaucoma Overview
Glaucoma describes a group of conditions in which there is characteristic cupping of the optic disc with corresponding visual field defects, due to retinal ganglion cell loss. It is a progressive condition and the most common cause of irreversible blindness worldwide.
The report provides an edge while developing business strategies, by understanding trends shaping and driving the global Glaucoma market.
Request free sample copy @ https://www.delveinsight.com/sample-request/glaucoma-market
Glaucoma Market: Geography Covered
The United States
EU5 (Germany, France, Italy, Spain, and the United Kingdom)
Japan
Glaucoma Market: Key Players
Aerie Pharmaceuticals
Sun Pharma Advanced Research Company Limited
Santen Pharmaceutical/Ube Industries
Western Therapeutics Institute (DWTI)/Kowa LTD.
Alcon Research
Merck Sharp & Dohme Corp.
Novartis/Alcon Research
Alcon Research, a Novartis company
Allergan
And many others
Glaucoma Market: Drugs/Therapies
Rocklatan
Rhopressa
Xelpros
Eybelis
Vyzulta
Tapcom
Glanatec
And many others
Glaucoma Symptoms
The sign and symptoms of Glaucoma differ by subtypes. OAG symptoms includes an increase in IOP, open anterior chamber angle and optic disc changes seen on clinical examination such as high cup to disc ratio, cup to disc ratio asymmetry between eyes, vertical elongation of the cup, etc. while narrow-angle glaucoma symptoms are intense eye pain, headaches or migraines, fuzzy lighting or halo figures, pupil dilation, vision troubles, bloodshot eyes, and physical sickness.
Glaucoma Risk Factors
The risk factors of Glaucoma include older age, family history of glaucoma, African ancestry, nearsightedness, high IOP, low blood pressure, use of topical corticosteroids, inflammation, and tumor.
Glaucoma Treatment
The only form of treatment that has been shown to be efficacious and is generally accepted for the prevention of glaucoma progression is reduction of the intraocular pressure. In patients with open-angle glaucoma, the intraocular pressure can be reduced with regularly applied eyedrops, laser therapy, and/or surgery.
Glaucoma Market: Treatment Market Report
The main goal of glaucoma treatment is to increase the quality of life through the reduction of IOP to preserve visual function. In the process of IOP reduction, an ideal medication should have a schedule that is simple to follow, be least interrupting with a patient's life, highly tolerable and affordable. However, the medical treatment of glaucoma has associated side effects, complications, and costs.
There are several risk factors like age >60 years, genetic predisposition, certain eye characteristics (such as a pupillary defect, thin cornea, myopia), low educational status, smoking, African descent, and visual problems, which are associated with this indication and, thus, the treatment pattern varies accordingly.
Glaucoma Market: Report Insights
There are three mainstays for lowering eye pressure, i.e. medication, laser, and surgery. The two types of laser treatments currently used are Selective Laser Trabeculoplasty (SLT) and Argon Laser Trabeculoplasty (ALT). Surgery for Glaucoma includes Cataract Surgery, Micro-Invasive Glaucoma Surgery (MIGS), Trabeculectomy, Drainage Implant Surgery, and Ciliary Body Ablation. There is an array of medications to lower the intraocular pressure in Glaucoma, which are divided into five major classes, i.e., Prostaglandin Analogs, Rho kinase inhibitor, Beta Blockers, Nitric oxides, Diuretics, Cholinergic Agonists (Parasympthomimetics), and Alpha Agonists. Monotherapy and combination therapy should be given for effective treatment of glaucoma.
Table of content
Key Insights
Report Introduction
Glaucoma Market Overview at a Glance
Executive Summary of Glaucoma
Disease Background and Overview
Treatment Algorithm for Open-Angle Glaucoma
Treatment for Glaucoma
Epidemiology and Patient Population
Organizations contributing towards Open-Angle Glaucoma (OAG)
Patient Journey
Case Reports
Marketed Products
Emerging Therapies
Glaucoma: Seven Major Market Analysis
KOL Views
Market Drivers
Market Barriers
SWOT Analysis
Unmet Needs
Reimbursement
Appendix
DelveInsight Capabilities
Disclaimer
About DelveInsight
Glaucoma Market: Emerging Therapy Assessment
Various pharmaceutical companies have started working toward the development of the novel product for this indication. Pharmaceutical companies, like Sun Pharma Advanced Research Company (SPARC) Limited, Laboratorios Sophia S.A de C.V., Nicox Ophthalmics, etc. are developing products that have the potential to change the glaucoma treatment landscape. Also, the pharmaceutical products of these companies are in late and mid-clinical development stages.
Glaucoma Market: Drivers
Rich emerging pipeline
Development of advanced anti-glaucoma medications
Patient-friendly dosage regimes
Rise in awareness
Development of treatment methods to tackle the situation of non-adherence
Glaucoma Market: Barriers
Lack of animal models
Socioeconomic barriers
Lack of patient pool due to under-diagnosis
Why should you buy this report?
The report will help in developing business strategies by understanding trends shaping and driving Glaucoma.
To understand the future market competition in the Glaucoma market and an Insightful review of the key market drivers and barriers.
Organize sales and marketing efforts by identifying the best opportunities for Glaucoma in the US, Europe (Germany, Spain, Italy, France, and the United Kingdom), and Japan.
Identification of strong upcoming players in the market will help in devising strategies that will help in getting ahead of competitors.
Organize sales and marketing efforts by identifying the best opportunities for the Glaucoma market.
To understand the future market competition in the Glaucoma market.
About Us
DelveInsight is a Business Consulting and Market research company, providing expert business solutions for life science vertical and offering quintessential advisory services in the areas of R&D, Strategy Formulation, Operations, Competitive Intelligence, Competitive Landscaping, and Mergers & Acquisitions.
Media Contact
Company Name: DelveInsight Business Research LLP
Contact Person: Yash Bhardwaj
Email: Send Email
Phone: +919650213330
Address:304 S. Jones Blvd #2432
City: Las Vegas
State: NV
Country: United States
Website: https://www.delveinsight.com/